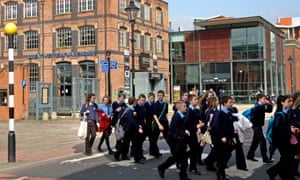 Claims that schools in the north of England are worse than those in the south are based on myth and bad data, according to a large-scale research project that calls into question the education policies of successive governments.
The study also challenges the idea that selective grammar schools or academies are more likely to improve pupil progress overall than community comprehensives, tracing the progress of 1.8 million pupils, their social, family and economic backgrounds and the type of schools they attended.
The analysis of three annual cohorts of 600,000 pupils each was carried out by Prof Stephen Gorard, director of the Durham University evidence centre for education, who says he found no evidence that schools in the north or north-east are differentially effective or ineffective with equivalent pupil intakes.
"What my new analysis suggests is that schools in some areas are not doing a worse job, they simply do not have an equivalent mix of children," he says. "The most important factor that determines school test and exam results is not the quality of teaching or leadership but who they teach, the proportion of pupils who are disadvantaged through poverty, family circumstances or special educational needs and most crucially the length of time they have been disadvantaged."