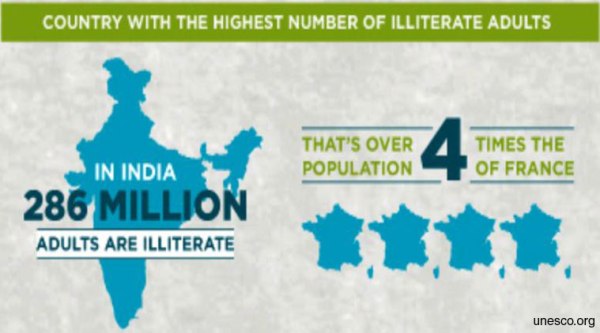 World celebrates the International Literacy Day on September 8. UNESCO marks this day with an aim to celebrate the achievements in the field of education and to focus on its future projects.
On this day in 2014, India is one of the countries with the highest adult illiteracy rate, according to the current Education for All (EFA) Global Monitoring Report.
In India there are various factors influencing the literacy/illiteracy rates. From immortality rate to gender inequality all play a vital role in determining the country's literacy rates. The literacy rate in turn influences the employment rate and the GNP (Gross National Product).
Primary education, though increasing over the years, has improved. According to the EFA report of 2014, as of 2005-2011 the youth literacy rate (81%) in India is higher than the adult literacy rate (63%).
The increase in youth literacy rate from 62% (1985-1994) to 81% (2005-2011) just makes it hopeful for the EFA to achieve its target of 90% literacy among the youth by 2015.
– See more at: http://indianexpress.com/article/india/education/gender-disparity-a-hindrance-in-achieving-goal-of-100-literacy/#sthash.Po8lDyqu.dpuf