The heads of leading independent schools say the exam-marking system for GCSEs and A-levels is "not fit for purpose".
Chairman Chris King will tell the Headmasters' and Headmistresses' Conference "urgent reform" is needed to improve the reliability of exam grades.
Last year more than 400,000 exam papers were challenged, with more than 77,000 grades being changed.
The joint exam boards body says markers are doing a "fantastic job".
But Mr King says: "The current situation is untenable.
"We are facing a perfect storm, of both decreasing public confidence and increasing pressure in the system, as the greater emphasis on end-of-year exams creates even more work for examiners over the summer," he will tell the HMC's annual conference at St Andrews in Fife.
'Unbelievable'
Mr King, head teacher of Leicester Grammar School, says marking remains a "cottage industry" that is unable to cope with the scale and stresses of the modern exam system.
Pupils can receive "frankly unbelievable marks or grades", he says, which can mean missing out on university places.
And even if grades are improved on appeal, he says that it can be too late to take up university places, which will have already been allocated to someone else.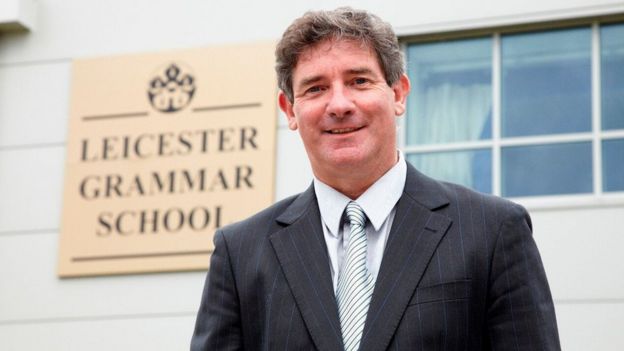 The most recent figures, from 2014, show that inquiries about exam grades rose year-on-year by 48%, with a 42% increase in the number having their grades changed.
Mr King will say that the numbers of grades being changed is "shocking" and he says that if 6% of examiners are rated as "inadequate" by regulators, that "vast numbers" of marks could be affected.
But he says that there could be an even wider problem, as state schools might lack the funds to pursue challenges against a "byzantine" inquiry system.
The HMC says there needs to be more consistency across different subjects and exam boards and a bigger workforce of better-trained markers.
The independent school heads also want a more transparent process for appeals.
'Robust processes'
But the Joint Council for Qualifications, representing exam boards, says the grades changed on appeal represent only 1% of entries.
"Our examination system relies upon the 50,000 teachers who each year mark over 15 million papers. They do a fantastic job and receive training from exam boards and ongoing monitoring to ensure high standards are maintained," said director general Michael Turner.
"Where mistakes do happen, in what is a large and complex system, there are robust processes to correct them as soon as possible and often within days."
A spokeswoman for the exam regulator Ofqual said that the quality of marking is "generally good".
"Nevertheless, there is room for improvement. We have already conducted substantial research in this area and we will soon be launching a consultation on proposed changes to the appeals system."
A Department for Education spokeswoman said: "Parents, teachers and young people need to have confidence that the grades they receive are an accurate reflection of a pupil's performance. That's why we're pleased that the regulator is taking steps to improve the quality of marking."