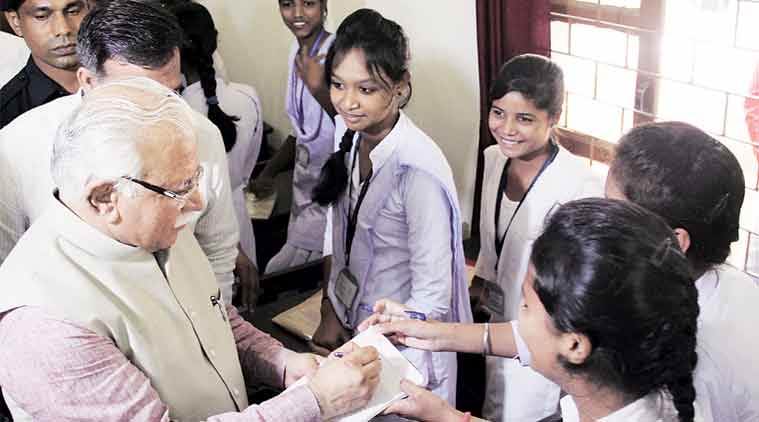 Haryana CM Manohar Lal Khattar with students at the government school in Chakkarpur village on Teachers' Day. (Express Photo: Manoj Kumar)
Students of Class IX and Class X at the Government Senior Secondary School (GSSS) in Chakkarpur village, Gurgaon, received their morning lessons from an unusual source Monday — Haryana Chief Minister, Manohar Lal Khattar.
On Teachers' Day, Khattar essayed the teacher's role for nearly an hour, imparting education to around 50 students. The start was smooth, as he posed questions on mathematics and dictation. The CM, however, hit a wall when he took up the subject of computers, unaware that the students were unfamiliar with the subject.
When the students were unable to answer questions, a teacher intervened and revealed that senior classes had been taught computers by tying up with an NGO, but these students were unfamiliar with the subject. With a "let's move on", Khattar introduced the topic that dominated the rest of the lesson — the "Indian calendar".
Before introducing the topic, he asked the students if they, now or in the past, had a chapter on "Bharatiya Sanskriti". The students indicated they hadn't. He asked them to name the months of the western calendar. Most hands went up. Then he asked them to name the months according to the Indian calendar. The hands fell. Having made his point, Khattar said, "The English calendar we remember, but the Hindu calendar, which is called the Indian calendar, we don't. The Indian calendar is as important. We should have an understanding of our calendar, it is very practical knowledge."
CBI probe shouldn't worry Hooda: CM
At a press meet in Gurgaon, Khattar said his predecessor Bhupinder Singh Hooda should not be concerned about the CBI probe into an alleged land grabbing case in Manesar because he had claimed he was "prepared" for an inquiry and "ready to be hanged" if found guilty.